Hello everyone! I hope you enjoy my blog from my exchange with Alix (16 from France) I hosted her for 3 weeks and went back to her home in France for 3 weeks
Direct Exchange Participant Grace, from California.
SATURDAY, APRIL 8.
Intro to My Exchange
I've wanted to be an exchange student since I was six, and my dream is finally coming true! My family has hosted German summer exchange students since I was five, and I always said that when I was older I was going to be an exchange student also. So, last summer when we learned about a local program to do a summer direct exchange in France it was a dream come true. The best part about the program was it is direct exchange, so we host a french student (Alix) for three weeks (July 1-July 22), then Alix and I fly back to France together and I stay in France for three weeks (July 23-August 12). Not a whole lot has happened yet because I just applied last month,but I do have an exchange partner. I emailed her on Tuesday and I heard back from her today. I keeping thinking off all these cool things to do around here, but we'll never be able to everything in three weeks. I'm so excited for this that I've already made a packing list, and it's only April! I'll probably refine it a bit then post it here. "Do not go where the path may lead. Go instead where there is no path and leave a trail." – Ralph Waldo Emerson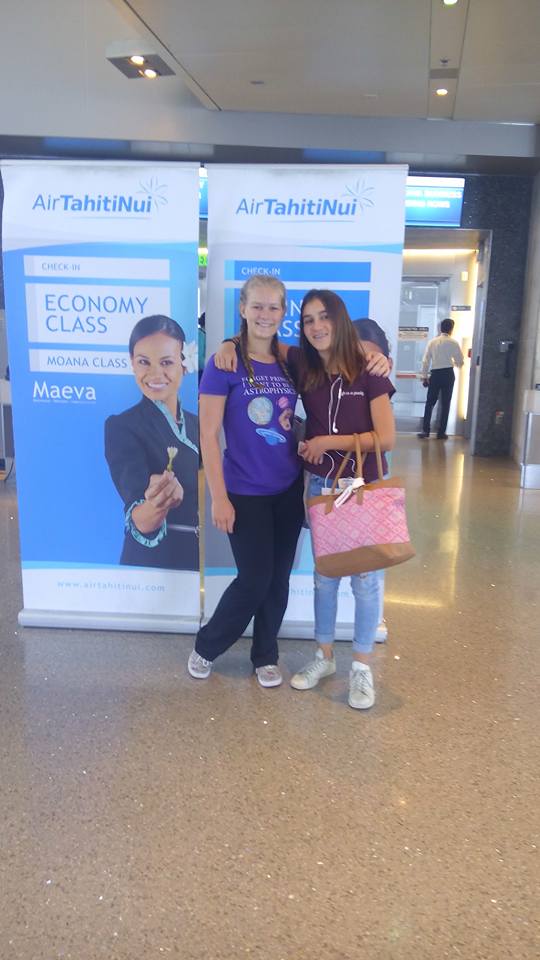 Grace and Alix at LAX Airport, California.
"Vacation while on Vacation" -Grace
SUNDAY, APRIL 30.
Taking a Vacation While on Vacation
Alix and I Skyped on Sunday. I feel bad because I was a little nervous and didn't talk nearly as much as I normally do. There ended up being a bunch of long pauses where neither of us said anything. She kept trying to get me to talk in French, which was good because I would start talking French then not know the word I was trying to say so I would start speaking in English again. It was slightly awkward to say the least. I also got a chance to talk a little my host sister, Candice, and my host father. Candice just asked me a few things like how old I was and how long I'd been learning French, though she did ask if I lived with my grandparents because in my application I included a picture of my family with my great-grandma. When I talked with my host father he told me a little bit about what activities they have planned while I'm in France. He said that we were going to be in Lyon for the first part, then go to Annecy, then to Corsica and stay with family friends for a few days. He also said that while we're on Corsica we are going to go on a 4-day hike, which sounds super fun. When I told my mom everything they have planned she started to worry because we don't really have anything planned, just going to the beach, Six Flags Magic Mountain, and a few hikes. My mom did tell me that she and my dad are talking about renting an RV and going to Northern California. I would actually really enjoy that because I've wanted to go to Northern California but we've never been. "Actually, the best gift you could have given her was a lifetime of adventures." – Lewis Carroll (Alice in Wonderland)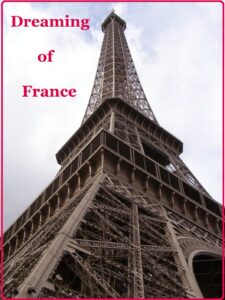 "40 Day Countdown! Everything is Coming Together!" -Grace
MONDAY, MAY 22.
Everything's Coming Together!
40 days until Alix gets here, and after that 62 days until I leave for France! Our flights have officially been booked, and we've decided what to do while Alix is here. We're going to go camping up in Northern California. We plan to drive up there, camp for 4 days, then on the drive back take the Pacific Coast Highway (Highway 1) and stop at places along the way. My mom keeps wondering what Alix's reaction will be to the fact that it's a 10 hour drive and 1) we aren;t even leaving California and 2) there's still roughly 2 more hours of driving on each side. We ended up having to re-book our campsite twice. The first place we book looked really nice at first, there weren't many sites in the place and it was really far north and looked super pretty. However, after doing some research we discovered that the campsite didn't have and showers, and the only toilets were pit toilets. The next one we booked had normal toilets and showers, it just was really small and completely shaded, which we didn't realise when we booked it. We finally settled on a site in the same place as the second one, just it's larger and has some sunny areas. We also found a deal on Six Flags season passes, so we're planning on going there also. I'm really excited for this summer, but I'm also kind of nervous. I'm not so much nervous that I'll hate it in France. Even if I do hate it it's only three weeks, and in the grand scheme of things that isn't very long. I'm more nervous that I'll go to France and absolutely love it there, and when I come back I'll have changed so much that I'll hate living here. I doubt that will happen because as I said before, it's only three weeks. How much can I change in three weeks? Even though I really doubt that this will happen it's just a little lingering worry in the back of my mind. "You will never be completely at home again because a part of your heart will always be elsewhere. That is the price you pay for the richness of loving and knowing people in more than one place." – Miriam Adeney
Alix Is Here!!!" -Grace
Wednesday July 5.
Lots of exciting things happened last week. Last Tuesday I went and got a debit card. I hadn't been able to get one because you need an ID and I didn't have one, not even a school ID. It hasn't come yet but it should hopefully come later this week. Then on Saturday Alix finally got here. I actually got to see her plane land, which was pretty cool. Corbin, my youngest brother, wanted to go with us to LAX but I wouldn't let him. Our car only had five seats, and my dad was coming with us. It was a good thing Corbin didn't come because it took almost 2 hours to get home, and we would have been squished in the back seat for the whole time. At first Alix was really quiet and she didn't eat a whole lot. I think she just wasn't used to speaking English, tired, and jet lagged. Yesterday and today she ate and talked more. It was a lot of fun to have her here for the 4th. Some friends came over, which I think helped her open up a bit too. We went to the pool on Monday with one of my friends. I thought it was funny because up until now I've only been up to the pool to volunteer as a JR.Guard, but to swim for fun. Alix kept looking at me like I was crazy because I kept whispering "Walk, walk, walk." whenever I saw somebody running. Today we left for NorCal. I think we freaked out Alix because we told her it was a 10 hour drive, and that we weren't going to leave until 1 pm, but not that we were stopping on the way up and not driving it straight through.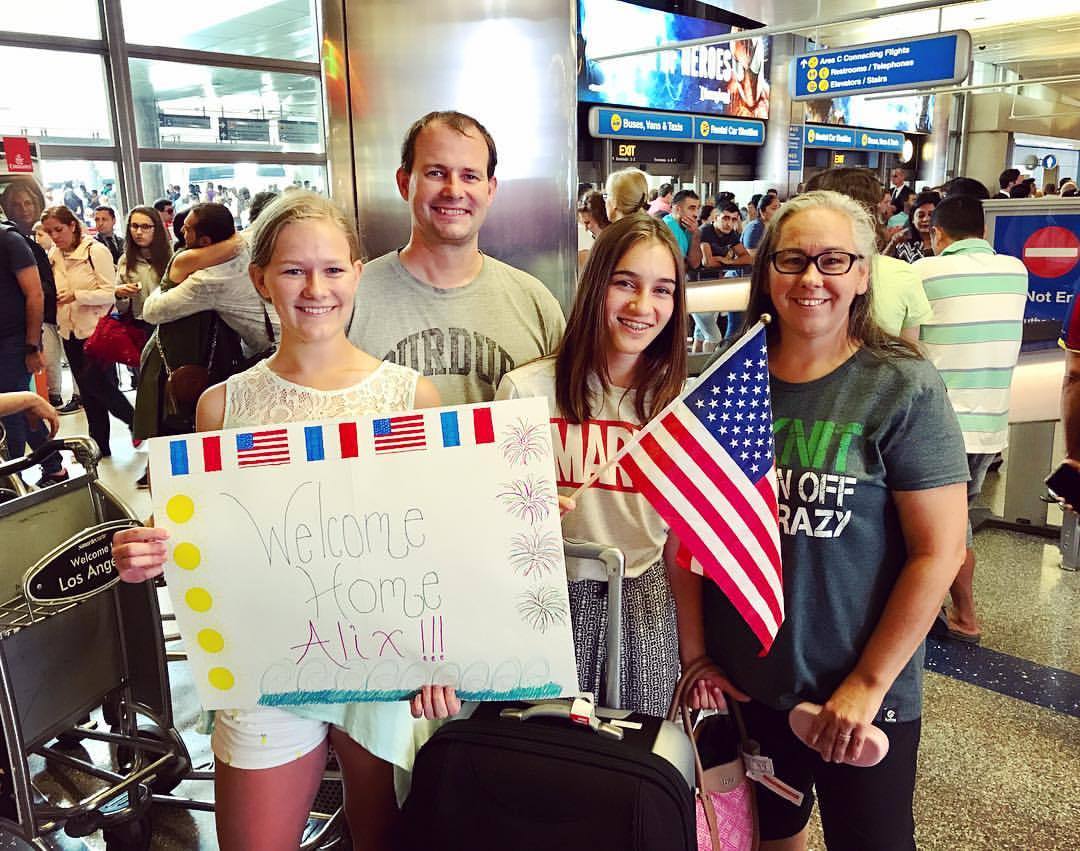 Grace and Family welcoming Alix at LAX, California.
"Road Trip To North Cali!" -Grace
Tuesday July 11.
Our Trip to NorCal
On the way home from NorCal. The first day at the campsite Alix sits down, looks at me and says "I thought you says it's would be really cold here." A few days later a asked her if she was glad that I told her to bring warm clothes, she said yes. We will discovered this is the first time she's ever slept in a tent. There was a small river near our campsite. We went there a few times while we were there. Alix was really good at skipping rocks. We (Alix and I) saw a small river snake. I thought it was pretty cool but it freaked Alix out. Though I have to says the rest of the day whenever something brushed up against my ankle I had to look and see what it was. We saw a deer on the way up, and lots of cows both ways.
Just Some Thoughts During this Experience
Just Some Thoughts
Wednesday July 12.
I just wrote yesterday but I was thinking about something and I wanted to write it down before I forgot. This is at no fault to our German Students, but I feel so much closer to Alix than I did to our German Students. I think it's because Alix is with us 24/7 and our German Students would have class every day in the morning, then excursions afterwards. We really only got about a week total to spend with them. With Alix my family spends time with her for the whole three weeks, then I get a whole three weeks that I can spend with my host family. We took Alix grocery shopping today. We always say if they see something interesting to tell us and we'll get it. Alix is the first person that I remember that actually took us up on the offer. We walked over to the cereal aisle and Alix looks at in awe of how many different types there are. We ended up getting six different types of cereal, and a couple of them Alix picked out because they looked interesting.
"Preparing for My French Adventure!" -Grace
I'm Leaving Tomorrow!
Thursday July 20.
Alix and I leave on Saturday! I packed my suitcase today. Partly because I was bored but also because I don't know what we're going to do tomorrow and I didn't want to be worried about getting my suitcase while we were out doing something. Now I'm just worried that I'll forget something that needs to be in my carry-on, specifically my passport.
Having Alix stay with us first helped me be less nervous, but also more nervous too. The main thing that helps is I already know her. I don't have to worry about whether we'll get along or not because I know we do. I also don't have to worry that I packed the wrong thing. Another thing that helped was that I was see how many words we had to explain to her or words she had to explain to us because she didn't know the word, or times she had to ask us to slow down ( I'm not saying she didn't speak good English, it was good, but it wasn't at the same level as a native speaker). However, it also made me realise how much you talk in a day and I'm not sure that my French is good enough that I can have full conversation in French. I keep seeing all these memes about when you know a language well enough to read and understand things when somebody says something to you, but not to respond to the prompt, and I think that describes my level of French pretty well.
"We Made it to Paris!" -Grace
I'm Finally Here!!!
Sunday July 23.
We made it to Paris! Right now we're waiting for the TGV to take us to Lyon. Yesterday I woke up with a stuffy nose so my mom had to run to Rite-Aid to get me some decongestants and cough drops before we left for LAX. Alix and I didn't end up getting to sit next to each other on the plane, even though we got there three hours early, but we'll get to sit next to each other on the train. I think I got about three hours of sleep on the plane. I might try to sleep a little more on the train, I'm not sure. Getting through customs was super easy. I handed the guy my passport, he looked at it, looked at me, handed it back, and I walked away. He didn't ask me any questions. The only thing I said was merci after he handed my passport back. I also didn't have to declare anything that was in my bags. Finding the train was easy, we had no problems with that either. I the one thing that surprised me was that there were armed soldiers walking around inside the airport, I've never seen that at a US airport. Other than that it was a normal airport.
"Exploring France & Lyon!" -Grace.
Exploring the City
Wednesday July 26.
I think I'm finally over the jetlag. I woke up at 9 today, rather than waking up at 5 then falling back asleep and sleeping until 1-2pm. Monday we went to this cute little village. Today and yesterday we went to Lyon. The French is getting just a little bit easier, I think. One of Alix's friends was telling a story and I understood part of it. They also asked me some questions about California and I think I explained it well enough. I got some candy for my brothers. Tomorrow we're going to a chocolate museum. I'm definitely going to but some chocolate for my family while we're there. As for individual presents I'm not sure what I'll get them. My brothers said they wanted a soccer T-shirt, but we'll see about that. I don't know what I'm going to get for my parents. We also got to ride the train, which was exciting. We're leaving for Corsica tomorrow and we won't get back until the day before I leave (Friday).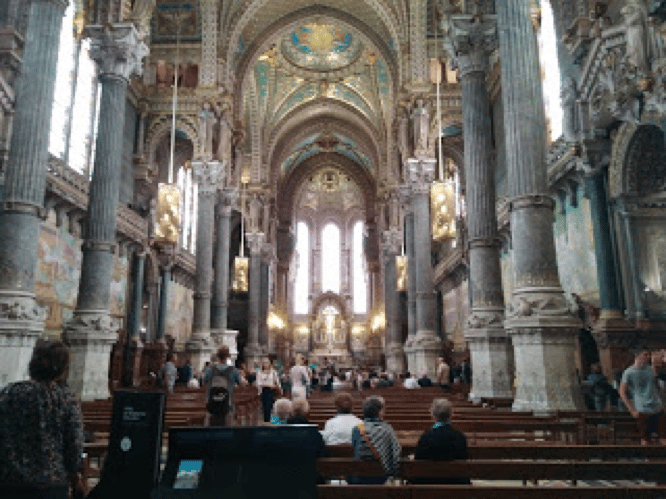 One of the many Cathedrals Alix and Grace visited in Lyon.
Becoming Part of the Family
Friday, August 4.
I had a small victory on Wednesday. My host brother and one of the people we're staying with were picking up the other kids and throwing them off the boat. It's a small boat and we were anchored so it nobody was going to get hurt. At one point they picked me up and threw me over board. It made me happy that they were treating me like all the other kids and not guest they wanted to make happy. Speaking French is definitely easier to do. I still don;t understand everything but it doesn't seem as foreign as when I first got here. Alix has been correcting me on some small errors that I'll make. I think part of is I'm just more confident to speak French now. That's I was hoping would happen, I would become more confident speaking French. Even if I don't improve anymore in this last week I've at least accomplished my language goal. Hopefully I still learn more before I leave.
"Traveling it leaves you speechless, then turns you into a storyteller." – Ibn Battuta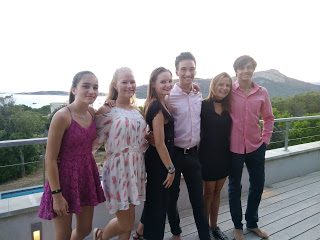 Grace and Alix with Friends and Family in Lyon
"I'm Back in the US"
So I completely forgot to write last week. We were really busy and I didn't have time to write. Anyway, I'm home now. Saturday was definitely a sad day. Alix and I are still going to talk. If either of us goes to France or California again we agreed we have to see each other. I made it to the plane on time, but just barely. The train station and my check in counter were on completely opposite sides of the airport, then security was in the middle, and my gate was the furthest gate from security. I made it with about ten minutes and was one of the last people to board. French immigration was a lot easier than American. For American first you stood in line to fill out a customs declaration form. After that you immediately got in another line for border patrol. Then you went and picked up your checked bag, and stood in another line to turn in your customs declaration form. Finally you were free. It took me 45 minutes to get through everything, and I skipped part of the first line because I filled out the whole customs declaration on the plane and didn't have to input it electronically. Surprisingly, I wasn't very tired even though I only slept 45 minutes on the plane. I think I stayed up until 8:00pm.
"It's a funny thing coming home. Nothing changes. Everything looks the same, feels the same, even smells the same. You realize what's changed is you." – F. Scott Fitzgerald
The End of the Best Summer Ever!
Tuesday August 29.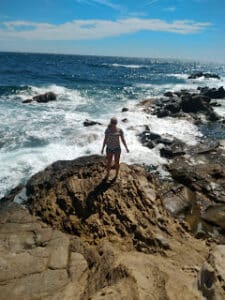 So I guess my summer is officially over. I started school this week. I've been procrastinating about writing this last entry. I feel like once I write it the best summer of my life will officially be done. I've been looking forward to this since April, and it was everything I hoped it would be. Now that it's over it feels so weird. I don't know what my next big goal is. Maybe I'll try to do a year long exchange now. I wouldn't change anything, except maybe just work a bit harder on my French before I left. I met so many amazing people that I never would have met if I hadn't done this exchange. I know that when I'm in France again I'll have a different view to the country. I also know that I can navigate in a different country speaking a different language and be okay. Alix and I are still talking. I hope that my experiences help someone make the best decision of their life. If you considering going on this exchange, do it! I promise you won't regret it.
"Travel isn't always pretty. It isn't always comfortable. Sometimes it hurts, it even breaks your heart. But that's okay. The journey changes you-it should change you . It leaves marks on your memory, on your consciousness, on your heart, and on your body. You take something with you… Hopefully, you leave something good behind." – Anthony Bourdain.